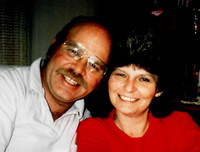 Mom joined Dad in Heaven on September 4, 2019. What a joyous occasion, 27 years was very long time to be apart. Mom was ready to be with dad again, but we were not ready to let her go.
Brenda Jean Parks De La Mare was born on July 9, 1948, to John and Ethelyn Beauregard Parks. She married the love of her life, Richard De La Mare on October 4, 1969.
Brenda enjoyed her time with her family, especially the time spent with her grandchildren. She also enjoyed sewing, crafts, and camping in the mountains with her husband and daughters.
She survived by her daughters, Vickie De La Mare and Marie (Richard) Babcock, grandchildren, Spencer Anderson, Quinton (Nicole Ross) Anderson, and Baylie Babcock, brother, John (Shelley) Parks, unborn great-grandson, Degan Anderson, step-grandchildren, Trevor Babcock, Tyler Babcock, and JazzAlin Babcock. Preceded in death by her husband, parents and sisters Ilene Fortune and Gayle Naylor.