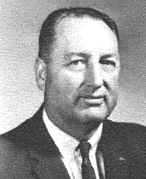 Irving Moore was born May 10, 1914 in Evanston, WY and died June 1, 1985 at his winter home in Santa Clara, UT at age 71.
In 1942 he married Naomi Wainwright and together they had three sons, Dennis, Terry and Sean. In 1943 Mr. Moore joined the United States Army and served as a Warrant Officer. After WWII he returned to Utah State University and obtained his Bachelors and Masters Degrees. In 1950 he started teaching in the History department at East High School and continued until his retirement in 1979. He made history come alive for his students.
He enjoyed raising horses and running his ranch in Summit County, Utah.
Burial: Coalville, Utah Cemetery.